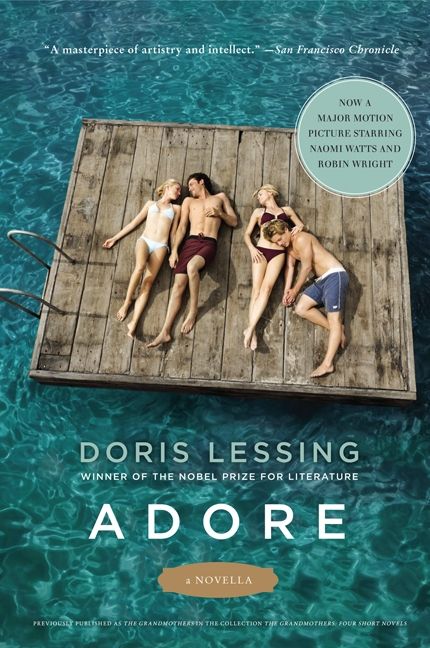 Even though I have a mountainous stack of library books to get through before I accrue enough fines to bankrupt the Queen of England, I often take great pleasure in reading random short stories or novellas just to change things up. I had not read any of Doris Lessing's work prior to "The Grandmothers," and I had no intention of doing so at present…But the version of this short story that I found at my library–published as "Adore" for the 2013 film adaptation–had an image on its cover of gorgeous looking people lying on a wooden platform, floating on a clear, blue body of water.
In the midst of winter, it seemed perfect.
My lack of familiarity with Lessing's style of writing hindered my enjoyment at the beginning. Her narrative structure took some getting used to, but I really enjoyed the way she transitioned between perspectives throughout the piece. After about 30 pages or so, the mark of her greatness began to reveal itself in the way she was able to navigate several fully formed characters and build a gorgeous setting–something that is really a character in its own right–in just over 100 pages.
The naturalness of her four protagonists–Lil, Roz, Tom, and Ian–rolls off the page in waves. I almost went into a trance reading about their adventures in the sea and sun…And there's this indelible, deliciously intoxicating image of the boys licking dried sea salt off of their mothers' skins as children that has stayed with me for days now.
I found there was nothing but beauty in the narrative. The taboo of two older women sleeping with each other's sons isn't something I needed to grapple with in order to digest the story Lessing was trying to tell. Ultimately, "The Grandmothers" is seductive, hypnotizing, and deftly executed. If you're like me and need a break from your regularly scheduled reading, it's a beautiful distraction.